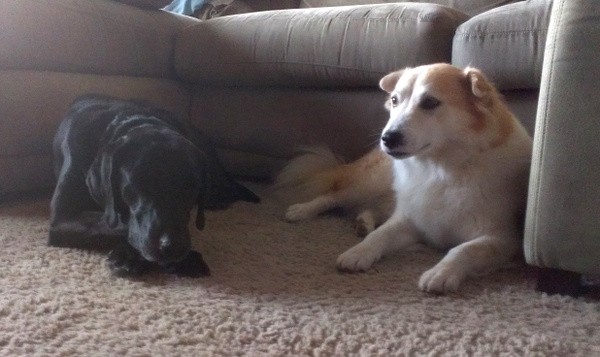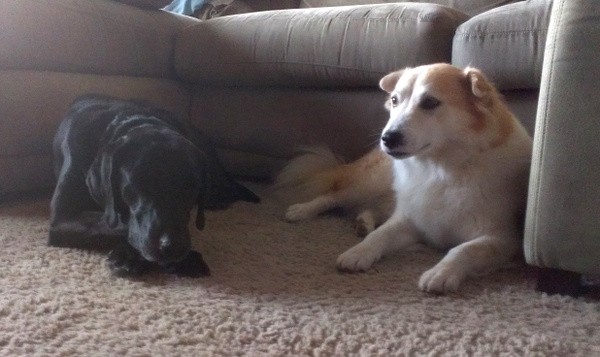 Punkin and Shadow (you'd probably guess Shadow is the black lab) don't mind so much when "mom and dad" go out of town, because, instead of dog boarding at a kennel, they get loving and attentive in-home pet sitting!
They have an interesting history — they both mysteriously "found" their forever home on their own!
Punkin's story — Not long after the owners' long time four-legged companions passed on, a beautiful, silky cream and white puppy walked into the garage, sat down and wouldn't leave — apparently she knew she was "home!"  Of course, the owners checked all resources to see if the beautiful little girl was missing but no one was looking for her.  Even though her new "parents" had resolved not to jump into replacing their lost friends, someone had other plans, and Punkin has been part of the family since.
Sure, she had her collie-like chewing phase, but she trained out of it and is a delight!  And a clever girl, too — she ingeniously sidles up and gets you to stroke her head, then slides down gradually as your hand follows, before she gets to her payoff, rolling over with you already in position for…BELLY RUBS!
Shadow's story — not too long after Punkin chose her new home, a young black lab showed up, walking in and making it clear she was now home, too!  However, this pup was chipped, and of course the owners were contacted to come pick up the lost dog. 
Some time passed, and no one had yet come to claim her. Then a call came in — for whatever the reason, the "old" owners asked them to keep the girl! Apparently it wasn't working out at the previous home, and as the kids at that home were still away and knew the dog was missing, it was just going to remain the situation.
Did Shadow somehow know she belonged somewhere else? Wish we could tell what dogs think and feel — they have such a wonderful instinct for the way things should be!
And, if you asked them, tI bet hey would tell you, if you have to leave, let them stay home with a pet sitter to love them! The In your home dog boarding alternative to a dog kennel gets "5 Stars" from these two!